http://www.thefreshloaf.com/node/43059/braune-mann-aufgegangen-mehrere-korn-sauerteigbrot-f%C3%BCr-unabh%C3%A4ngigkeitstag
Braune Mann aufgegangen mehrere Korn Sauerteigbrot für Unabhängigkeitstag
Submitted by
dabrownman
on July 3, 2015 - 11:59am.
If .and it is a big if, Bing Translator works …it means Brownman's sprouted several grain sourdough bread ……( with a yeast water kicker – which isn't in the name)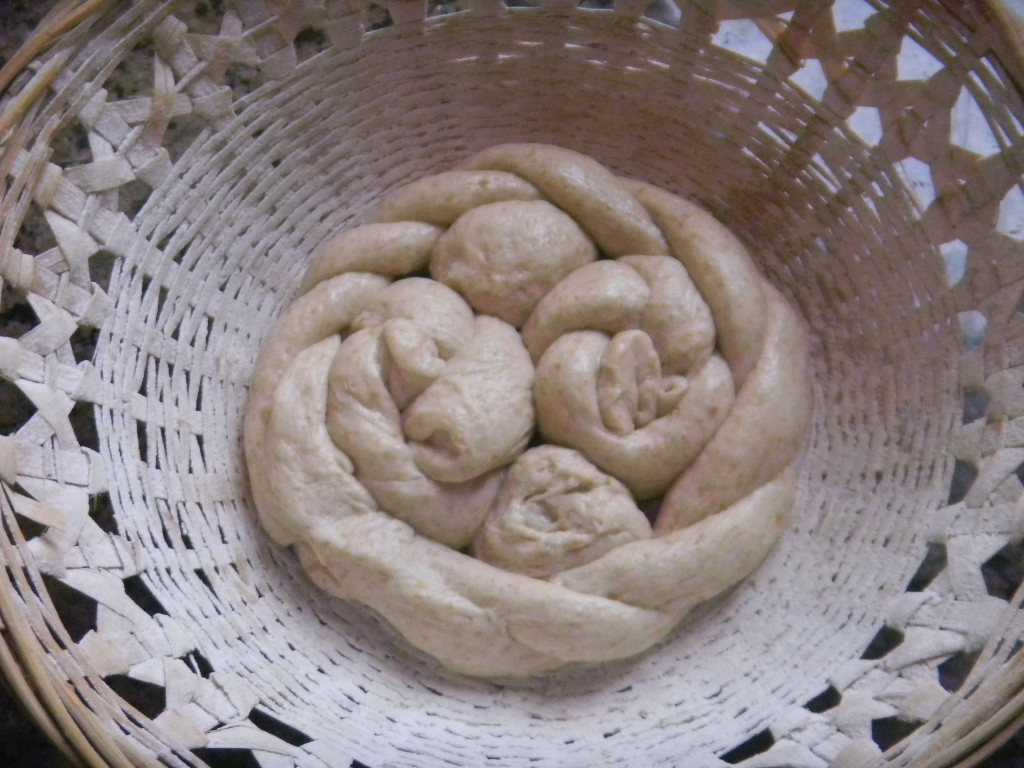 I really didn't think that I could tear Lucy away from her computer this week to come up with a loaf of bread for this Fridays bake. She has been working diligently for a whole week programming something ever since I showed her how to program.
She had a great idea for an app, which surprisingly I hadn't thought of before, mainly because if I wrote it, I would be in jail but…… there aren't jails for Doxi Dogs who think they are Dobermans - except for the kennel I keep for my Baking Apprentice 2nd Class in…. when she upchucks on my toes or does something her master doesn't like..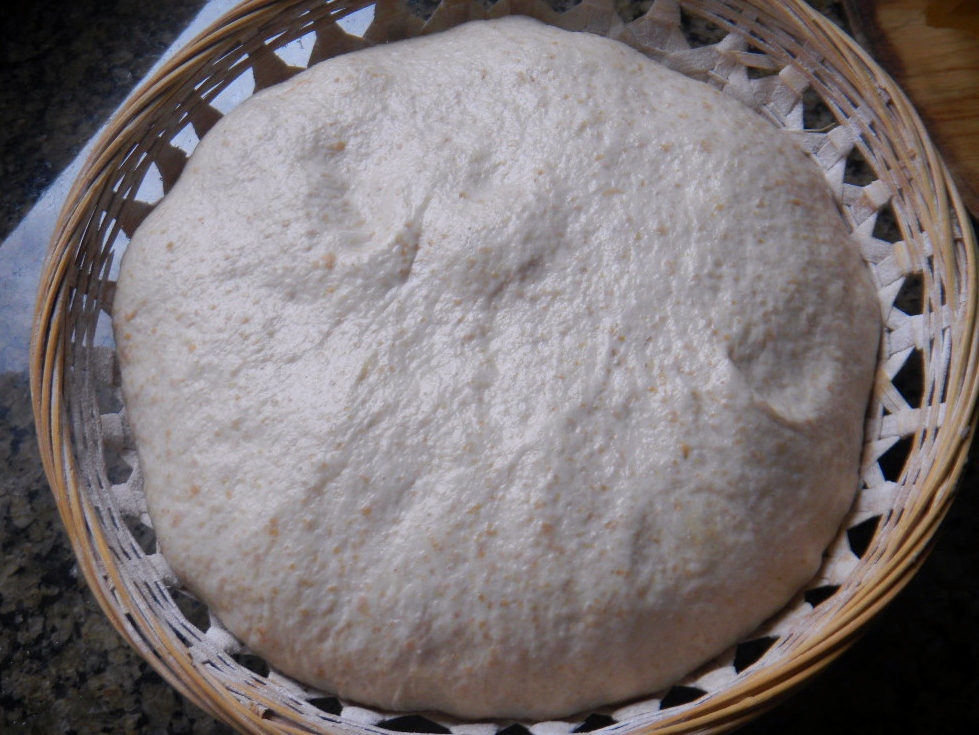 Lucy decided to write and app that inactivated all the other apps on the device it was loaded onto and she plans on making money by having people pay her to reactivate their other apps.  I told her we call that extortion and her reply is that it is better than stealing other people's identities and ruining their lives…. which of course is not really true.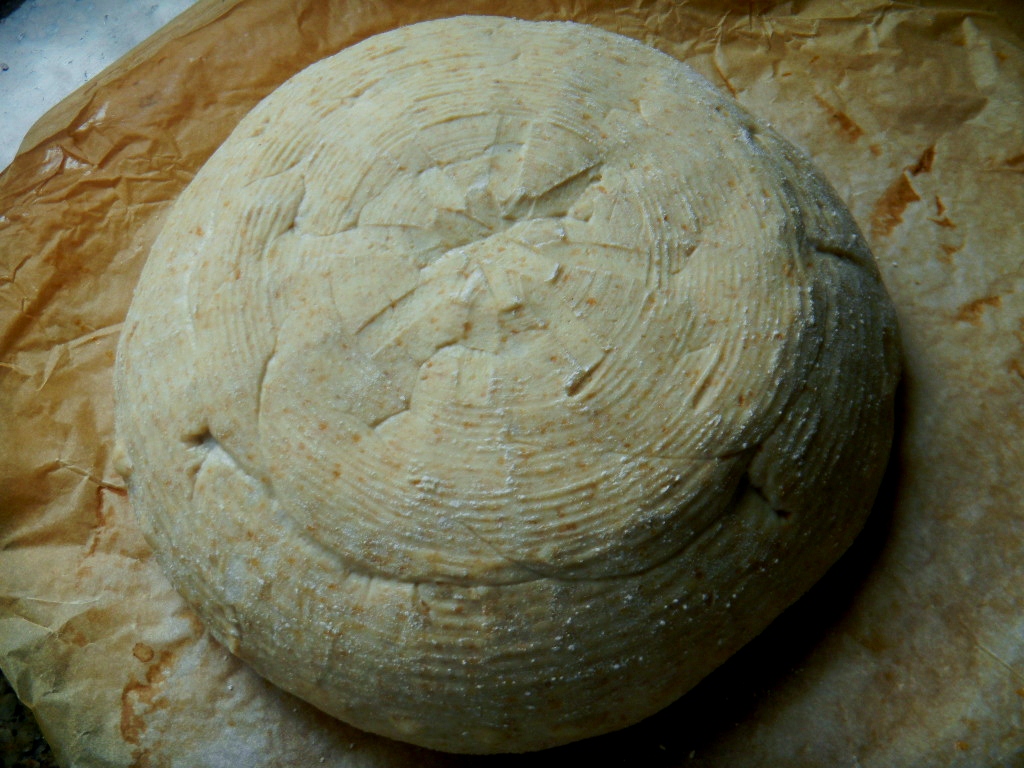 We put extortionists in prison for a long time but you can come into the country illegally, steal someone's identity and SS number to work and, the next thing you know, you are moved to the front of the line to become a citizen.  No worries, no harm done and welcome.   The reasoning must be that you deserve citizenship more than most of the native born folks who no longer have their own identities and can no longer prove it like you can.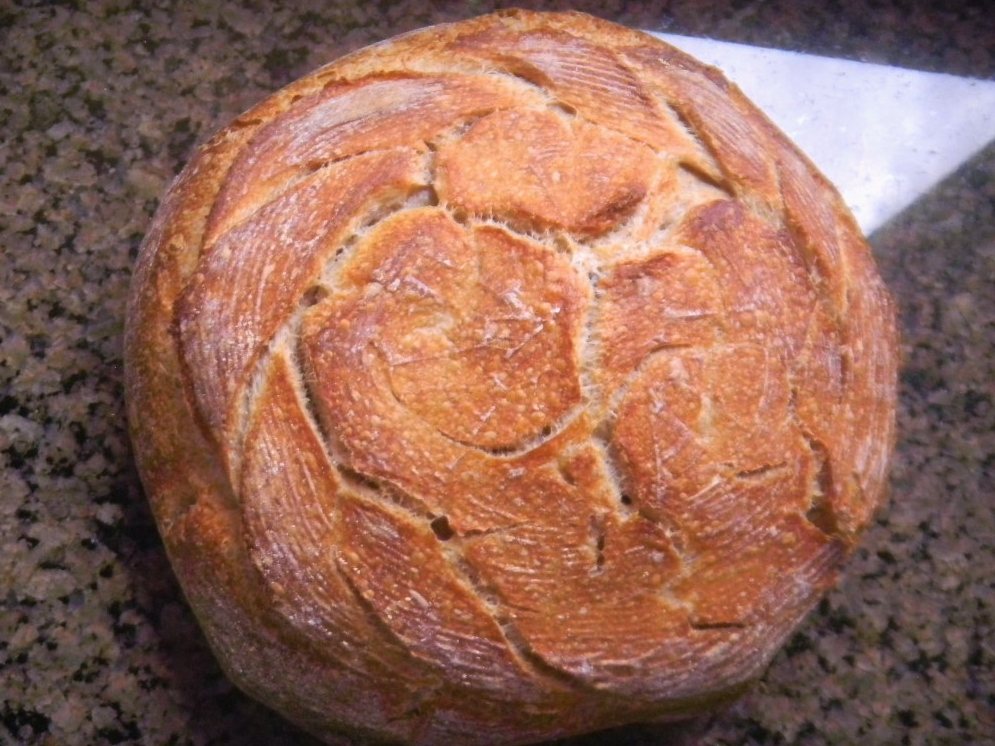 .
So be warned.  If you see an app that says something like - Lucy's SD (Super Duper) App For Everything - steer clear, keep calm and carry on…. knowing that you were forewarned and kept safe from extortion and who knows what else.  Now, on to this week's bake.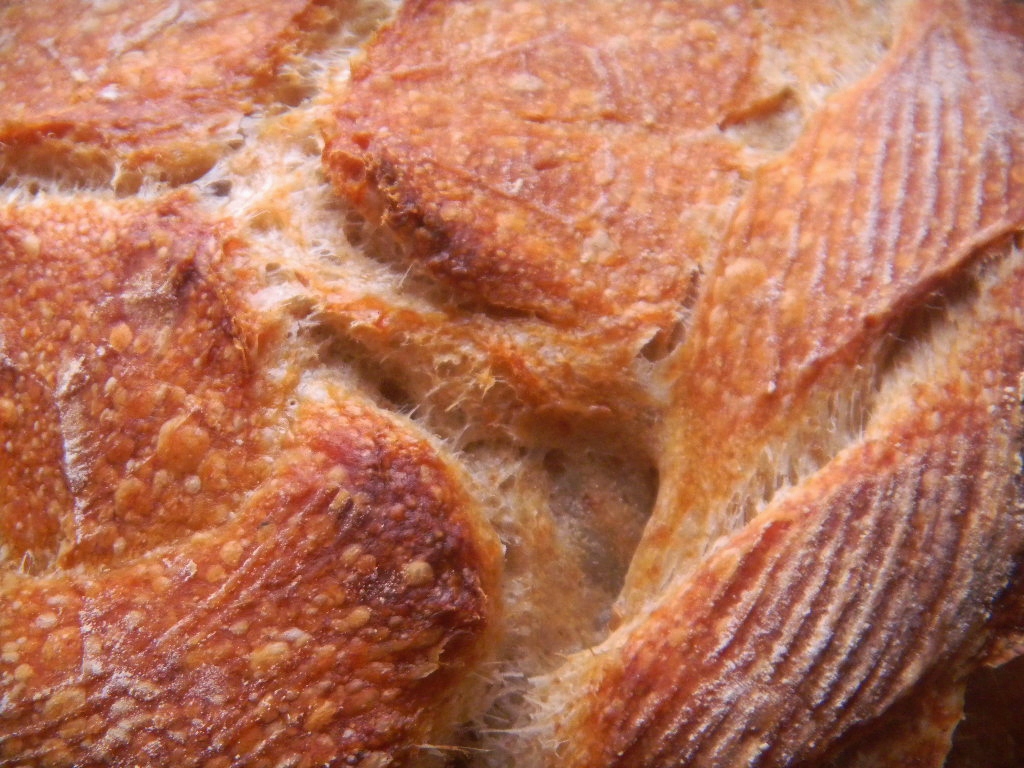 Lucy had forgotten all about yeast water even after I fed it some cherries recently to give it that beautiful summer color we love so much.  We have been doing so much making SD starter from scratch for the weekly bake it was time to go back to a combo leaven by using a dual YW and SD starter.
We saved half of last week's pumpernickel SD starter for this week but didn't use it to build a small SD levain.  We used 15 grams of our 10 week retarded rye starter instead and whipped up a YW one too.  Both were single stage builds.
We used the 25% extracted hard bits that were sifted from sprouted and whole grains in the levains first – so they would be wettest the longest.  Once the levains had doubled, we retarded them for 24 hours.  The grains were a mix of spelt, emmer (farro), Kamut and wheat (no rye since we ran out).
Lucy thought we should do a white bread since we were out of that too.  Plus, with smoked meats for the 4th of July a must, you need some white bread.   This one only has 38% whole grains with half being sprouted which makes it solidly, pretty much a wheat white bread.  She also kept the hydration to a reasonable level.  We wanted to do a chacon to celebrate, in a special way, that Cousin Jay was coming over for 4th of July dinner of smoked turkey and pork ribs with the usual fixings.
When chacons get too wet, they tend not to crack where designed.  They just spread out and meld together at the seams - a bad state of affairs when chacons have affairs.  We did a bit different process with only 1 set of slap and folds for 8 minutes and then did 4 sets of stretch and folds all on 20 minute intervals.,
We then did a very shot bulk ferment of 30 minutes before doing a bulk retard of 10 hours.  The next day, after the design of 2 knots, 2 balls and a braid went into the bottom of the basket, we shaped the rest of the dough into a flat boule and placed it on top.  We let it final proof on the counter for one and quarter hours before preheating Big Old Betsy to 500 F with the combo cooker inside.
When the bread went in we turned the oven down to 450 F for 18 minutes of steam and then continued to bake for 15 more minutes at 425 F convection when the lid came off.  We removed the chacon from the bottom of the combo cooker 5 minutes after the lid came off so it could finish baking on the stone without burning the bottom
It bloomed and sprang half decent and had some blisters showing on the outside too.  The design for the cracks came through nicely – yea!  We will have to wait ans see how the inside came out later.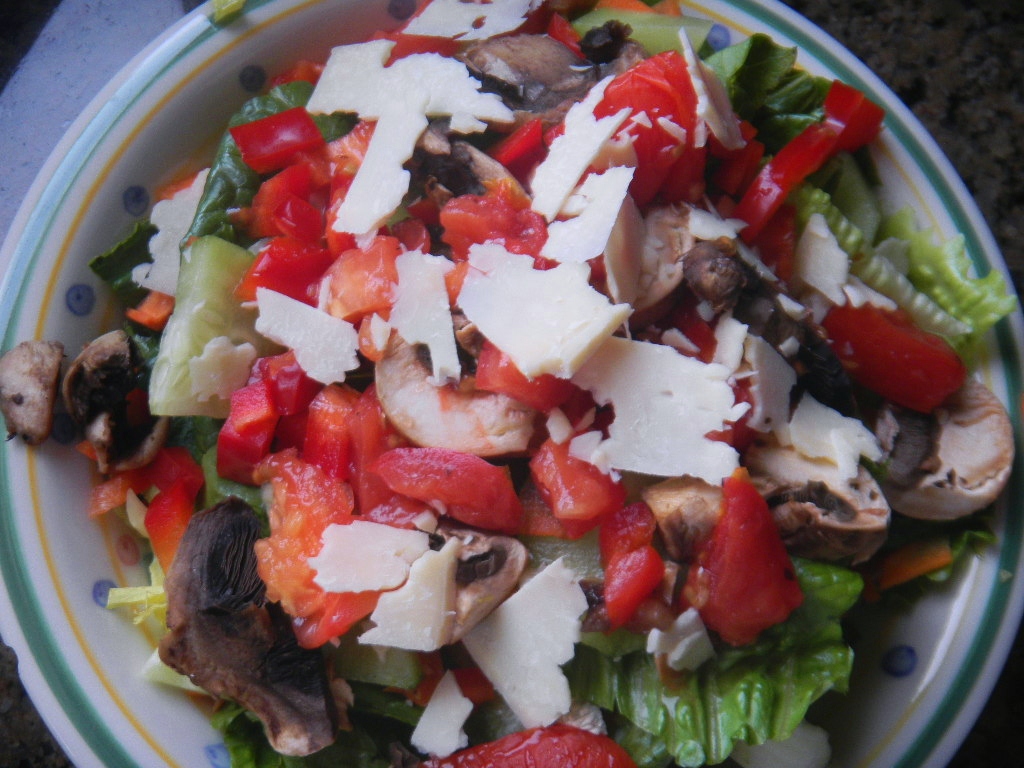 And don't forget the salad to round out any meal..
SD Levain Build

Build 1

%

10 week Retarded Rye Sour

15

2.96%

Spelt

15

2.96%

Farro

15

2.96%

Kamut

15

2.96%

Wheat

17

3.35%

Water

62

12.22%

Total

124

27.39%

 

 

 

YW Levain Buid

Build 1

%

Spelt

15

2.96%

Wheat

15

3.35%

Kamut

15

2.96%

Farro

15

2.96%

Yeast Water

62

12.22%

Total

122

24.43%

 

 

 

SD & YW Levain Totals

 

%

Whole & Sprouted  Flour

131.5

25.91%

Water & YW

131.5

25.91%

Levain Hydration

100.00%

 

% Prefermented  Flour

25.91%

 

 

 

 

Dough Flour

 

%

KA Bread Flour

158

31.13%

Whole & Sprouted Grain

60

11.82%

La Fama AP

158

31.13%

Total Dough Flour

376

74.09%

 

 

 

Salt

10

1.97%

Water

272

53.60%

 

 

 

Total Flour w/ Starter

507.5

 

Water & YW

403.5

 

 

 

 

Total Hydration w/ Starter & Add ins

79.51%

 

Total Weight

921

 

% Whole & Sprouted Grain

37.73%

 

% Sprouted Grains

18.87%

 

 

 

 

Whole and sprouted grains are equal amounts

 

of:  Kamut. spelt, farro and wheat